Amazing Eye Makeup For Green Eyes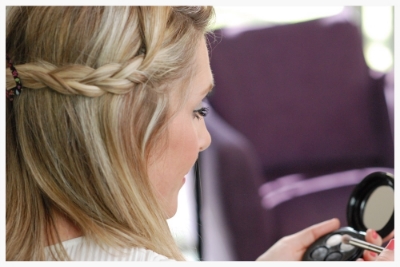 There's no doubt that green eyes are gorgeous! But choosing the right eye makeup for your green eyes will make them look stunning!
Let me show you some of my favorite styles that you can try for yourself. The colors that I chose for the eyeshadow intensifies every green eyes.
Try these styles to see how they work:
Bronze eye makeup
I really like warm peach color, personally. I found that it enhances green eyes and adds a warm tone to the whole face. There are a lot of ways to use Bronze Tones, one of the best is to accomplish it by using black eyeliner which will make it appear more dramatic. So go ahead and try it! Here are the best steps:
I prefer to start this style from the lower lash line. Take a flat brush and apply Bronze color eyeshadow. Move with upward strokes from your lower lash line and up (I love using Nars "Duo Eyeshadow").
Adding a touch of Bronze along the eye crease will add some depth to your eyes without making them look too heavy. Color your eye crease usin g a fluff brush and Bronze eyeshadow.
With a fluff brush blend your Bronze eyeshadow. Using this clean brush, gently go over the eye crease. This technique will allow you will blend your eyeshadow toward the eyebrows.
Add diagonal eyeliner with your eyeliner brush and eyeliner gel to create a line (Mac eyeliner brush #263 will fit the most). Start your line 2/3 from the beginning edge of your eye. Draw your line diagonally and use an upward motion and direction.
Softly enhance the lower eye lashes. With the flat eyeshadow brush, apply a light coating of natural gray eyeshadow over your lower lashes.
Curl the top lashes, and coat them with black mascara. Swipe mascara on your lower eye lashes, also.
To create the Bronze eye makeup I used:
Silver eye makeup for green eyes
This eye makeup is perfect for green eyes. It is a nearly effortless technique and so helpful to know! The secret is to find just the right shade of silver. You don't want it to be too shimmery or too blue if you are trying for a very natural and sophisticated look.
For this makeup look I love to choose silver eyeshadows from Urban Decay Naked 2 palette. I find that the silver colors at this palette are just perfect for green eye makeup! Here are the steps for this technique:
Color your eyelid center using a fluff brush and silver eyeshadow. I picked "Verve" from Naked 2 palette.
Line your upper eye lashes with eyeliner. Using the eyeliner brush, apply black eyeliner gel along the upper lashes. Line it very close to the lash roots for best results.
Adding a touch of natural color along the eye crease will add some depth to your green eyes without making them look too heavy. Color your eye crease using a fluff brush and "Tease" eyeshadow from Naked2 palette.
If you want to add a little more drama, work some color over your lower lash line. Using your flat brush swipe gray eyeshadow ("Pistol" from Naked 2 palette) on the roots of your lower eye lashes and pearl eyeshadow ("Bootycall" from the palette) over the eye corner.
To create Silver eye makeup I recomend the following items:
Here are some moer related pages: